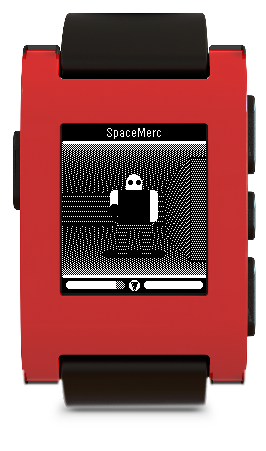 Introduction
Humankind is at war with a hostile alien race known as the Fim. As an elite interstellar mercenary, your skills are in high demand. Fame and fortune await as you risk life and limb for humanity's future!
Welcome to SpaceMerc for Pebble: the first FPS game ever developed for a smartwatch! Built on the foundation provided by MazeCrawler, this unique 3D action game is available for free through MyPebbleFaces and the official Pebble App Store.
Missions
You are well-trained, highly experienced, and have acquired a high-tech armored space suit and a laser rifle powerful enough to blast through solid rock. As such, until the war is ended, there will be a constant demand for your services. A never-ending series of procedurally-generated missions will be presented to you, each falling into one of the following categories:
Excavate: We may request help breaking down rock walls in one of our mines from time to time. Not the sexiest of tasks—no aliens to kill nor humans to rescue—but it helps the war effort and it's easy money! Walk away with $100-$300 for each section of rock you break down.
Retaliate: If the Fim overrun a human colony in your sector, we'll ask you to reclaim it. Eliminate all Fim forces present, but take care not to damage colony buildings. Reward: $300-$500 per enemy killed (usually 10-30), minus the same amount for each wall destroyed. (You'll still be rewarded even if you don't dispatch every enemy invader.)
Obliterate: Occasionally we'll assign you an entire Fim base to annihilate, earning you $300-$500 for each enemy killed as well as every wall demolished. (You'll still be rewarded even if you leave some walls standing and a few survivors hiding behind them.)
Expropriate: Retrieve a data storage device from a specified Fim base for a reward of $5,000-$10,000. Simply locate the device (a large white rectangle), walk onto it to pick it up, then leave the same way you came in.
Extricate:

 Rescue a human officer captured by the Fim and you'll pocket $10,000-$15,000. You should recognize our officer immediately as he will be much skinnier than the Fim soldiers guarding him and will probably be the only unarmed humanoid in the area. Locate him, walk onto his location to pick him up (he'll likely be drugged and unable to walk on his own), then make your escape as quickly and safely as possible.
Assassinate: Neutralize the Fim officer at an indicated location to collect a bounty of $10,000-$15,000. Fim officers are easily recognized by the grey shirts they wear (as opposed to the black shirts worn by lower-ranking Fim). Approach with caution and, if at all possible, shoot from a safe distance!
With the exception of EXCAVATE missions, all missions feature a random assortment of about 10-30 enemies. It's never necessary to kill every enemy (or destroy every wall) to receive your pay, even in RETALIATE and OBLITERATE missions, so feel free to flee if you're injured. However, bear in mind that if you abandon an EXPROPRIATE, EXTRICATE, or ASSASSINATE mission before either retrieving a storage device, saving a human officer, or killing an alien officer, respectively, you won't get paid regardless of how many enemies you've slain.
When you're ready to end any mission, simply exit the way you entered: walk through the door that was behind you at the beginning of the mission.
You can also skip a mission by completely exiting the game, then restarting SpaceMerc. Mission data are not saved between gameplay sessions, but money and character stats are. Speaking of which…
Upgrades
Between missions, what does a mercenary like you do with all that hard-earned cash? Invest in some upgraded stats, of course!
Armor: Better armor means you take less damage. Simple, right?
Max. Health: Cybernetic surgery, genetic manipulation, chemical supplements…there are many ways to boost your overall vitality, making you harder to take down in the field. (Current health is indicated by a bar in the lower-left portion of the screen, by the way.)
Laser Power: Make a few "special modifications" to your trusty laser gun and you'll soon be blasting through walls and enemies faster than ever before!
Max. Energy: Your laser gun's energy supply ("ammo") diminishes with each shot you fire, and although it will slowly recharge over time, you can't rely on that to save you when a squad of Fim elites are closing in. Increase your maximum energy supply to ensure you'll outlast all your opponents! (Current energy supply is indicated by a bar in the lower-right portion of the screen.)
As each stat increases, so does the cost of upgrading that stat yet again. Also, bear in mind that the Fim are constantly working just as hard as we are to improve their technology, training programs, etc., so don't expect to reach a point where every battle is a breeze. Finally, please note that character data is lost when SpaceMerc is "unloaded" (i.e., uninstalled).
Enemies
"If you know the enemy and know yourself, your victory will not stand in doubt."
—Sun Tzu, The Art of War
Fim Soldier: Although these low-level recruits are no match for you one-on-one, they may pose a threat by catching you in a weakened state or overwhelming you with large numbers. Don't underestimate them!
Fim Elite: Specially trained and armed to the teeth, Elites are far more deadly than typical Fim Soldiers. Kill them quickly—preferably from a distance—or they will certainly kill you!
Fim Officer: Highly experienced and well armed and armored, the grey-shirted Fim officers are far from mere pencil pushers. They have proven notoriously difficult to assassinate and have even personally killed several of our most seasoned soldiers and mercenaries. Neutralize them when the opportunity arises, but treat with extreme caution.
Robot: Thick armor plating makes these machines of war difficult, but not impossible, to destroy. As for their offensive capabilities, they are about on par with a typical Fim Soldier.
Beast: These dog-like animals are trained to attack humans on sight, and they take their training to heart! Dispatch them quickly or they may overwhelm you.
Mysterious Ooze: The underlying biology of these strange creatures continues to baffle human scientists. Composed primarily of a more-or-less heterogeneous "ooze," these life forms nonetheless exhibit a fairly well-defined (and very large) head region dominated by two large eyes. Lacking mouths, they consume their prey by secreting corrosive compounds and digestive enzymes directly on them and then absorbing what remains directly through their skin. Needless to say, you don't want one of these dissolving through your armor!
Floating Monstrosity: Apparently composed entirely of plasma, it is unknown whether the Fim discovered or created these bizarre entities. What is known is that they are highly powerful and difficult to destroy. Nonetheless, they will eventually dissipate under continuous firepower. Just pray they do not sneak up behind you!
Controls
"Up" button: Press once to step forward, twice to turn left.
"Select" button: Fire your laser gun to demolish walls and kill enemies!
"Down" button: Press once to step back, twice to turn right.
"Back" button: Press to return to the main menu, effectively pausing the game. (Press from the main menu to exit the game.)
Issues
So far, there is only one significant gameplay issue I know of and it concerns movement: if you want to continuously move forward (or backward), you may do so by holding down the "Up" (or "Down") button, but after releasing the button the player will often seem to suddenly "jump" forward (or backward) a little bit. This is, as far as I can tell, a simple matter of lag: the player's location keeps changing and the UI has trouble catching up. I'm doing my best to resolve this issue, but in the meantime there is a straightforward workaround: while moving, release the button earlier than you think you need to, or move in short spurts.
Feedback
If you'd like to report an issue or have any other feedback, advice, or questions you'd like to share, please leave a comment below or on SpaceMerc's Google+ and Facebook pages or send me an email: david[at]davidcdrake[dot]com. You may also support my ongoing work by sending a contribution to my email address via PayPal. Finally, remember to check out my other Pebble game projects: MazeCrawler and PebbleQuest!